Of all the important operations on a farm, none quite match the intensity of harvest season. It's an exciting and busy time filled with anticipation, hope, lots of planning, and an undercurrent of anxiety. Given that a harvest represents a farm's payday, farmers need reliable tools and machinery to get the job done. This year's valued farm assistant is the MK-V!
Harvest 2023 is the first year the MK-V was in our customers' fields, supporting farm managers, workers, and tractor drivers all working together to ensure crops were picked at the most optimal time for a successful and productive season. For Monarch, it's been especially exciting to discover that across social media, customers are sharing what's been going on in their fields and how they are using their MK-V tractors during this critical time of year.

@funkyvinos proudly shared, "Today's chard pick for Cruse Wine features Matthiasson Wine's stellar vineyard crew and our new Monarch Tractor."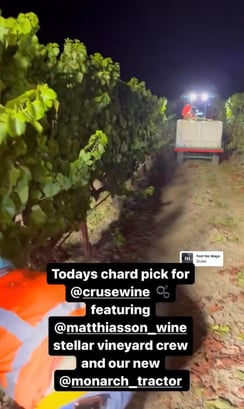 Hauling
As produce is picked, farmhands need a place to put it and bin trailers serve this purpose. Pulling bin trailers through the rows is a critical job that gets produce from the fields into the storage bins, crates, and trucks. The MK-V has been proving its stamina, power, and reliability with this task.
Check out the action with La Pelle Wines showing off their bin trailers as they are being filled with beautiful grapes, all towed by the winery's Monarch MK-V.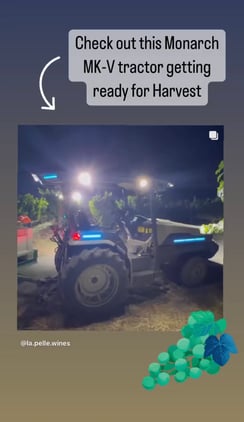 Fox Hill Vineyards and Broc Cellars reveal a gorgeous montage of its team harvesting some of its more than 25 Italian grape varietals, organically farmed in Mendocino County. The MK-V earns a "best supporting actor" for its role in pulling overflowing bins of Trebbiano grapes. With the purchase of its MK-V, Fox Hill is starting off dedicated to environmental stewardship and smart farming practices from its inception. Harvest season 2023 is the 21st harvest for winemaker Chris Brockway, but his very first as a vineyard owner. He purchased Fox Hill in April 2023 and leveraged California's CORE subsidy program to purchase the vineyard's MK-V.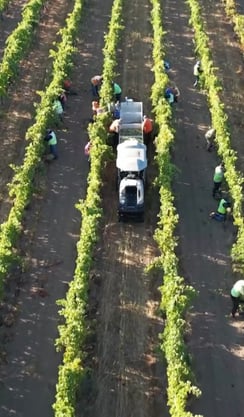 Lights
Vineyard harvests often take place at night to take advantage of lower temps and the resulting stabilized sugar content in the grapes. Without sunlight, proper lighting is essential for a safe and productive work environment. The MK-V is valuable in two ways. Not only does it provide exportable power for light towers, but many farmers have found that the work lights integrated into the tractor's roof provide ample illumination for harvest-related tasks.
Eden Rift Vineyards gives us a glimpse of their harvest operations happening at 1:33 a.m. "The rows are illuminated by our electric Monarch Tractor to aid visibility."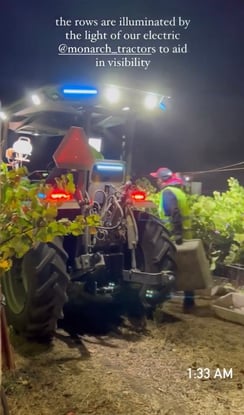 During a nighttime harvest shift at Beckstoffer Vineyards, the MK-V's work lights keep everything bright and highly visible.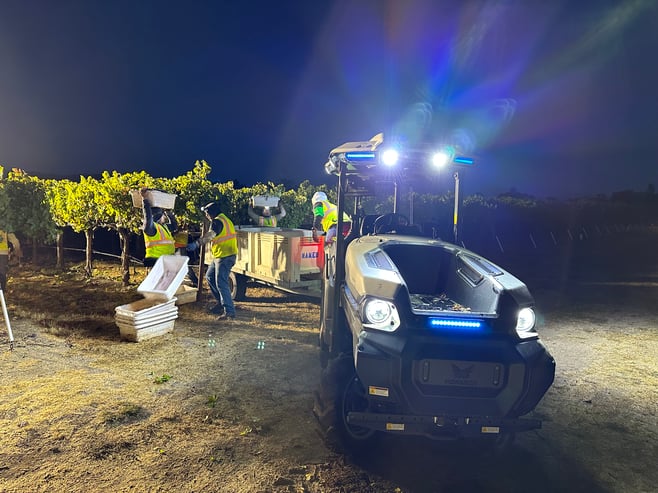 Safety & Comfort
There are many reasons why farm crews are thrilled to have the MK-V pulling bin trailers and lighting the crops while working. Diesel-powered tractors and generators release a continuous cloud of smelly, toxic emissions and are extremely noisy. The noise is so overbearing that farm workers often use hand signals to communicate because their voices cannot be heard over the din.

In contrast, the MK-V puts out zero emissions and some customers are calling out that it's quieter than their old diesel tractor while it sits and waits for harvest crews to move slowly down the rows. Instead of idling like a diesel, it's either on or off.

Arkenstone Vineyards shares, "First pick of the year at Arkenstone. Our incredibly perfect sauvignon blanc and the absolutely silent Monarch Tractor. No diesel smell. No noise."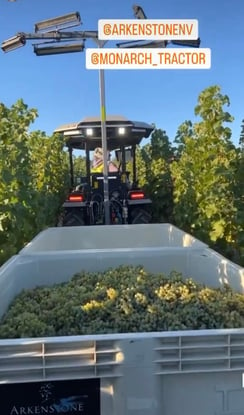 The MK-V's 360-degree camera technology and smart screen adds another layer of safety. From the driver seat, operators can see what is happening behind the tractor at any given time and because the work environment is less noisy, they can hear workers' voices instead of relying on hand signals.

Fox Hill Vineyards takes you behind the scenes showing what and who is behind the tractor via the MK-V's smart screen cameras. Be sure to turn the sound on to immerse yourself in a moment of a vineyard harvest, complete with the hustle, bustle and farmhand conversations that bring this operation to life. Watch more!
The MK-V comes equipped with 110v and 220v power outlets that can be used to power tools or equipment out in the field. While it may not be considered a traditional "tool," assistant vineyard manager at Beckstoffer Vineyards, Conner Berken, shared that he had plans to plug in a coffee maker on the tractor for nighttime harvest. That certainly qualifies as a little extra comfort for harvest team members!
Harvests for Years to Come

As more and more farmers make the switch to electrification, the benefits will continue to amplify. Safer work environments for farm workers, increased savings for farm owners, and lower ag-related air emissions translate into healthier air quality and natural environments, as well as cleaner foods for everyone from grower to consumer. That's reason to raise our glasses and say, "Cheers!"