LIVERMORE, Calif. – April 22, 2023 – It's a realm of salt-scrubbed coastlines, dramatic wildflower blooms, and honey-colored hills. When it came time to select the Monarch MK-V colors, what better source of inspiration than the natural beauty of our home, the remarkable state of California? The result is a tractor that operates as one with its environment, respecting and representing the land on which it works.
Inspired by Nature
Every time you see a Monarch MK-V, you're looking at a visual reminder of its connections to the land. Our brand colors are Stratus Gray, Deep Teal, and Monarch Orange. Think coastal fog and the muted grays of the California sky, fresh water such as those found in Sierra Nevada's high alpine lakes, and the bright cheeriness of the California poppy, and monarch butterfly.
Status Gray
Nearly every day somewhere in California soft gray fog envelopes the landscape. There's the intensely thick, dense tule fog that saturates the inland valleys. Coastal and offshore fog curtains the Pacific shores. Then there is "Karl the Fog" the Bay Area's most mysterious resident.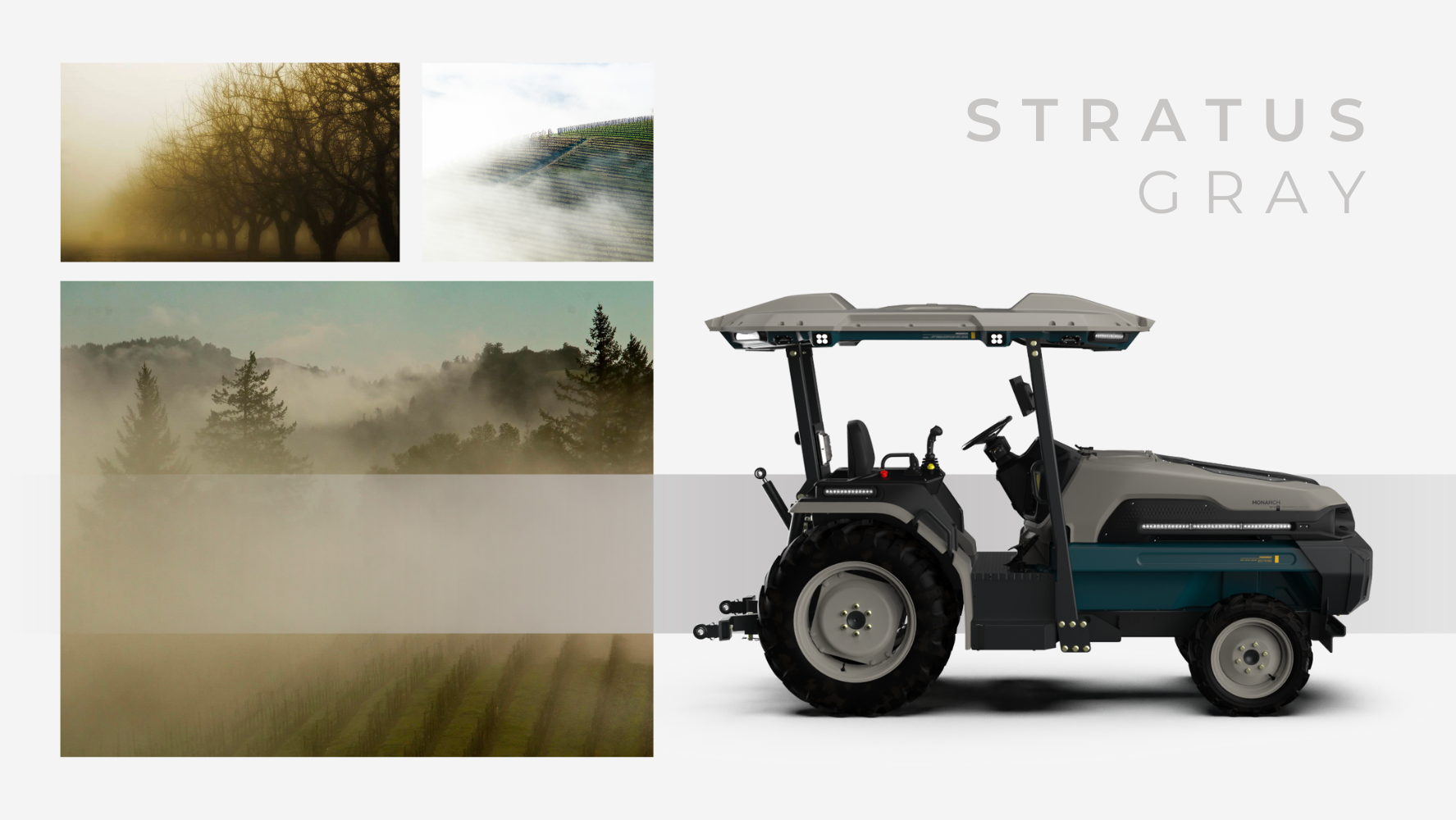 Deep Teal
Soothing and refreshing, this rich, blue-green color is one of the rarest found in nature, yet California offers several ways to experience this elusive hue. Alpine lakes and streams turn snowfall into ribbons of blue and there is the iconic Pacific Ocean. Blue lupine wildflowers decorate the hills and roadsides. Its inclusion on the MK-V is a reminder that the annual arrival of fresh, clean water flowing from the mountains to the sea is the lifeblood of a healthy environment.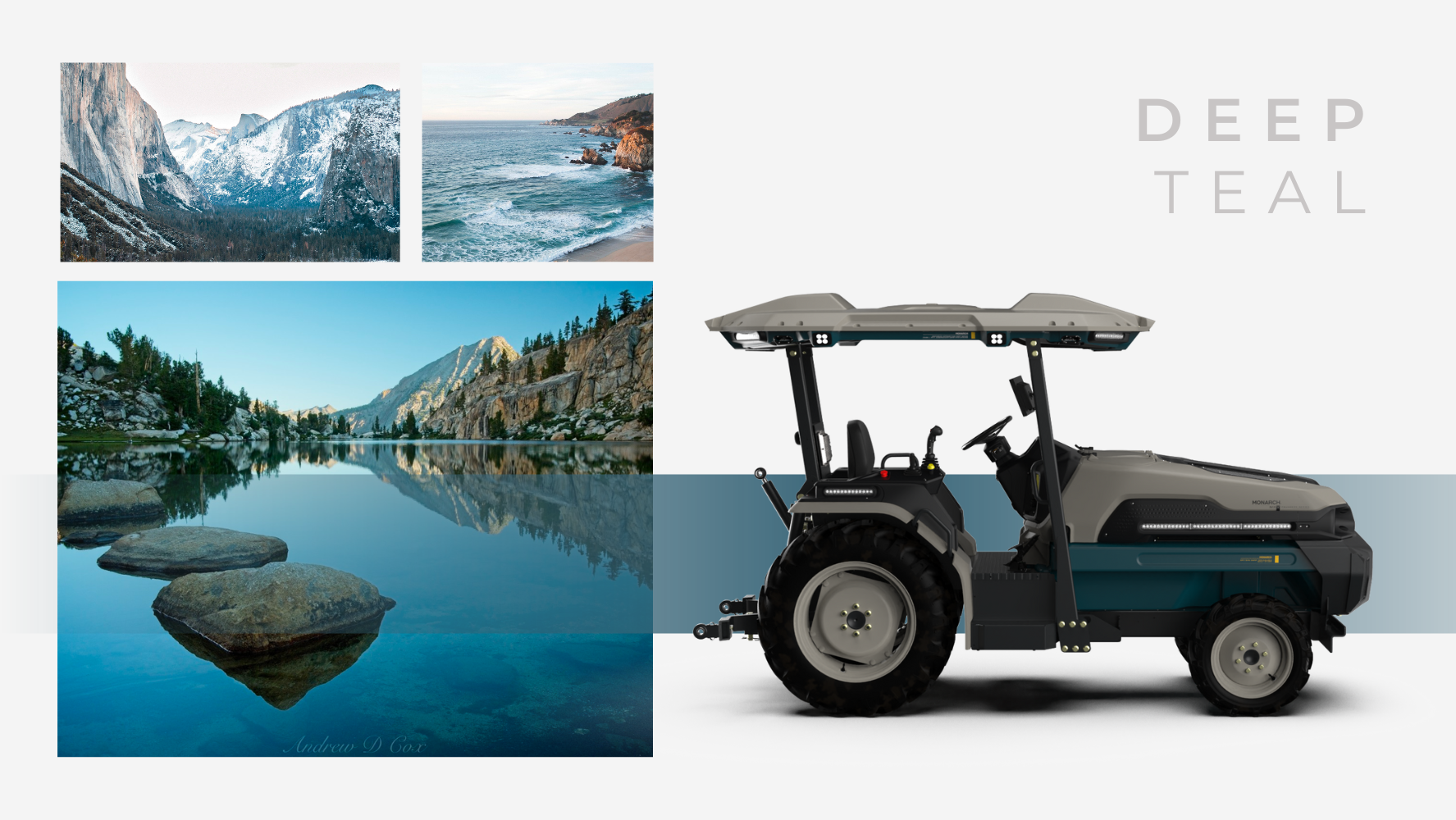 Monarch Orange
From the Bay Area to San Diego, monarch butterflies spend their winters in sunny California. Monarch Orange is inspired by our namesake's beautiful orange and black wings. The plight of this endangered species affirms our sense of urgency in fulfilling our mission to make clean farming economically viable for farmers. Monarch Orange is also the color of California's state flower!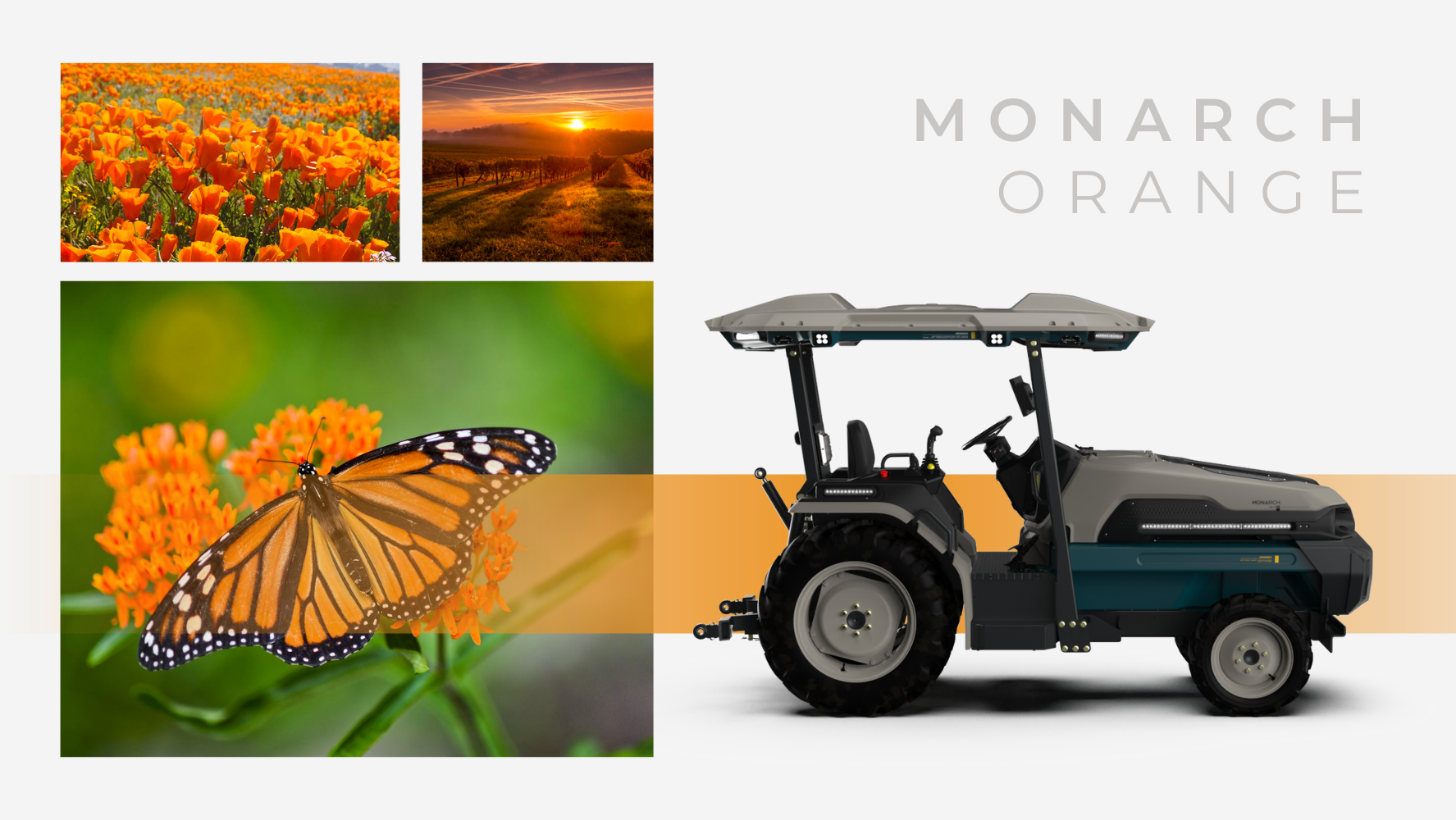 Together our colors represent California's scenic landscapes and the agricultural communities that are woven through them. It's these communities, and the thousands like them across America, for which we are working to create a clean, profitable, and prosperous farming future.
Purposeful Aesthetics
When the mission to provide practical solutions for farmers also means healthier solutions for our planet, honoring a connection to nature is more than a responsibility, it's part of our DNA. Our colors embody our mission of restoring the planet's health through agricultural tech that prioritizes farmers.

Monarch Tractor is an agricultural tech company and just as you'd expect from talented engineers every detail of our designs serves a specific purpose. Our color selections are as beautiful as they are deliberate and functional. The light gray MK-V improves the electric tractor's thermal management by deflecting heat. The light color also increases its visual safety. Both are important factors when our driver-optional EV tractor is operated by a human driver or autonomously.
Clean Farming for Earth Day Every Day
The MK-V works in harmony with the environment in which it operates, supporting crops, protecting topsoil, and reducing or eliminating the need for herbicides and pesticides. It accomplishes all this while making a farm more profitable and independent than ever before.

Monarch Tractor is leading AgTech into a new era of clean farming, an era where the idea that "every day is Earth Day" is finally realized. It's a future where going green means going with teal, gray, and orange.