Harvest season is the busiest time of year on a farm. While harvest work is known for its harried, challenging hours and operations, it's the culmination of a year's worth of countless tasks, each demanding time, attention, and careful coordination across all farm workers. Beckstoffer Vineyards is finding that this year's season is shaping up to be a bit different. In June, Beckstoffer added four Monarch MK-V tractors to its fleet; two are deployed at its Las Amigas vineyards in Carneros and two at Georges III Ranch in Rutherford. In 2024, four additional MK-Vs will be joining the Beckstoffer fleet.
Some might feel it risky to add new technology in the form of an electric tractor so close to harvest season, but Beckstoffer saw it as a strategic way to get ahead of some ongoing challenges.
Nurturing History & the Future
Dedicated to producing exceptional grapes, Beckstoffer Vineyards farms more than 3,600 acres across Northern California. This includes some of California's oldest, most historic vineyards. Meanwhile, Monarch represents some of the newest, most advanced technology found in a tractor. Both share a goal of keeping the vineyards healthy and profitable for years to come.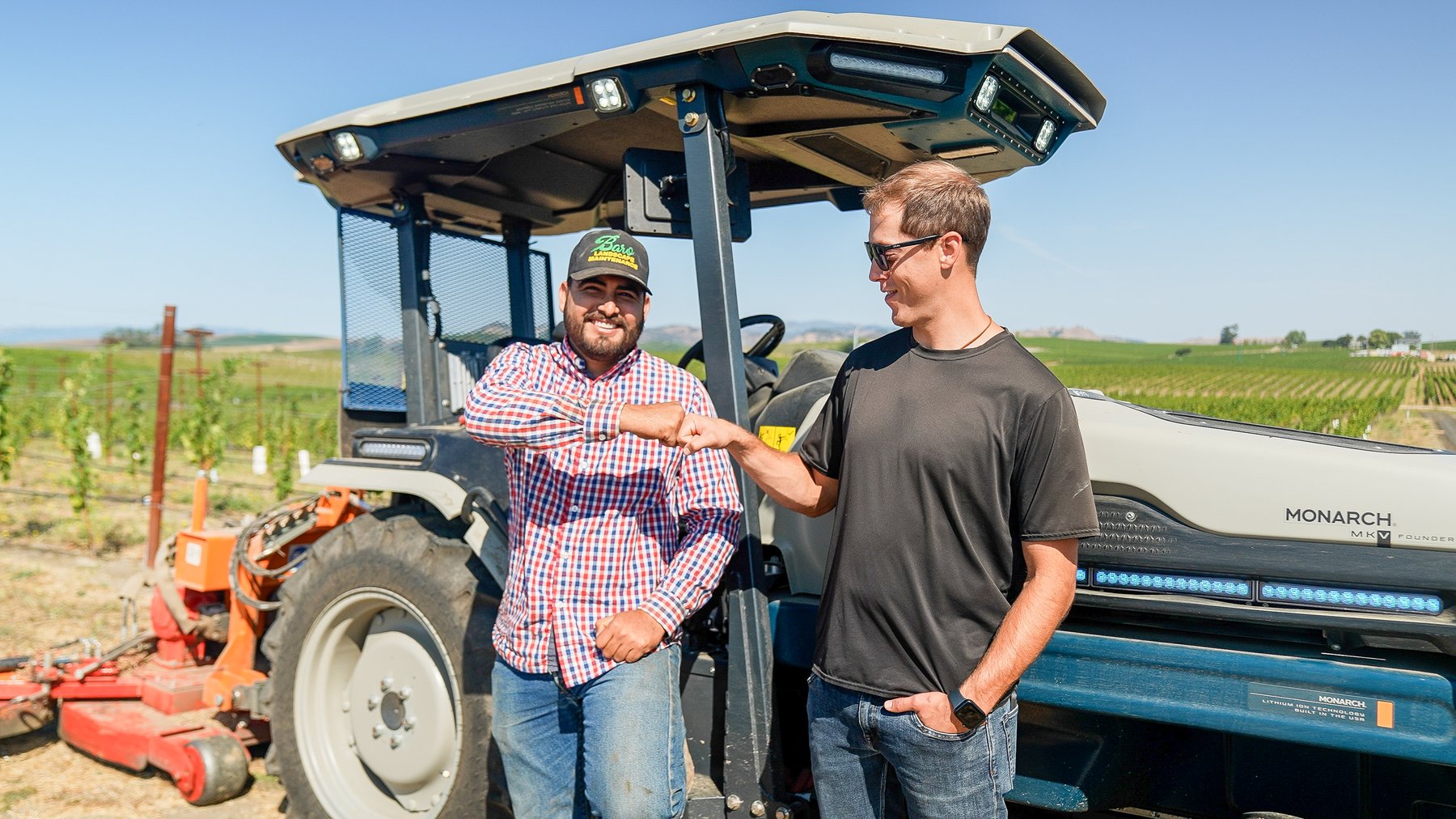 It's an honor to work on these historical vineyards, and bringing new technology to see how it can improve them and keep them around longer is awesome.
Conner Berken, Assistant Vineyard Manager for Beckstoffer Vineyards
Challenges Add Up
Like many farms, numerous daily challenges, large and small, take their toll at Beckstoffer Vineyards. Sustainability is no exception. Going green has many benefits — increasing organic matter in the soil, reducing emissions, and limiting chemical use, but implementing renewable farming practices is an industry-wide challenge. In early 2023, Beckstoffer made its Las Amigas location a no-till operation thus requiring more passes with mowing, which increased diesel costs and compounded labor shortage issues.
Time is another issue. Every time Berken or another manager needed to speak to an operator they had to go out into the field and track them down. Not always having the availability to do so created an underlying current of low-level stress.
Anxiety is an issue for tractor operators as well. Carrying diesel fuel, thinking about safety, and avoiding collisions were always concerns. Beckstoffer's Las Amigas sweeps across 440 acres of rolling terrain, adding another layer of complexity to a tractor driver's responsibilities.
Introducing Monarch
When the fleet of Monarch MK-V tractors first arrived, there were some concerns.
"The biggest skepticism that I had about the MK-V was, "Will it last a full workday?" Berken recalls. "It's been lasting all eight hours of mowing on various terrain here at Las Amigas and the days where we have needed to go over, say to 10 hours, it's still holding strong and has some extra power."
Crew members also questioned if the MK-V would hold up for the job.
At the beginning when we first saw the electric tractors, my colleagues and I thought that they wouldn't work well for the job. However, as we used them, they worked perfectly.
Eric Guadalupe Riva Hertado, Tractor Operator at Beckstoffer Vineyards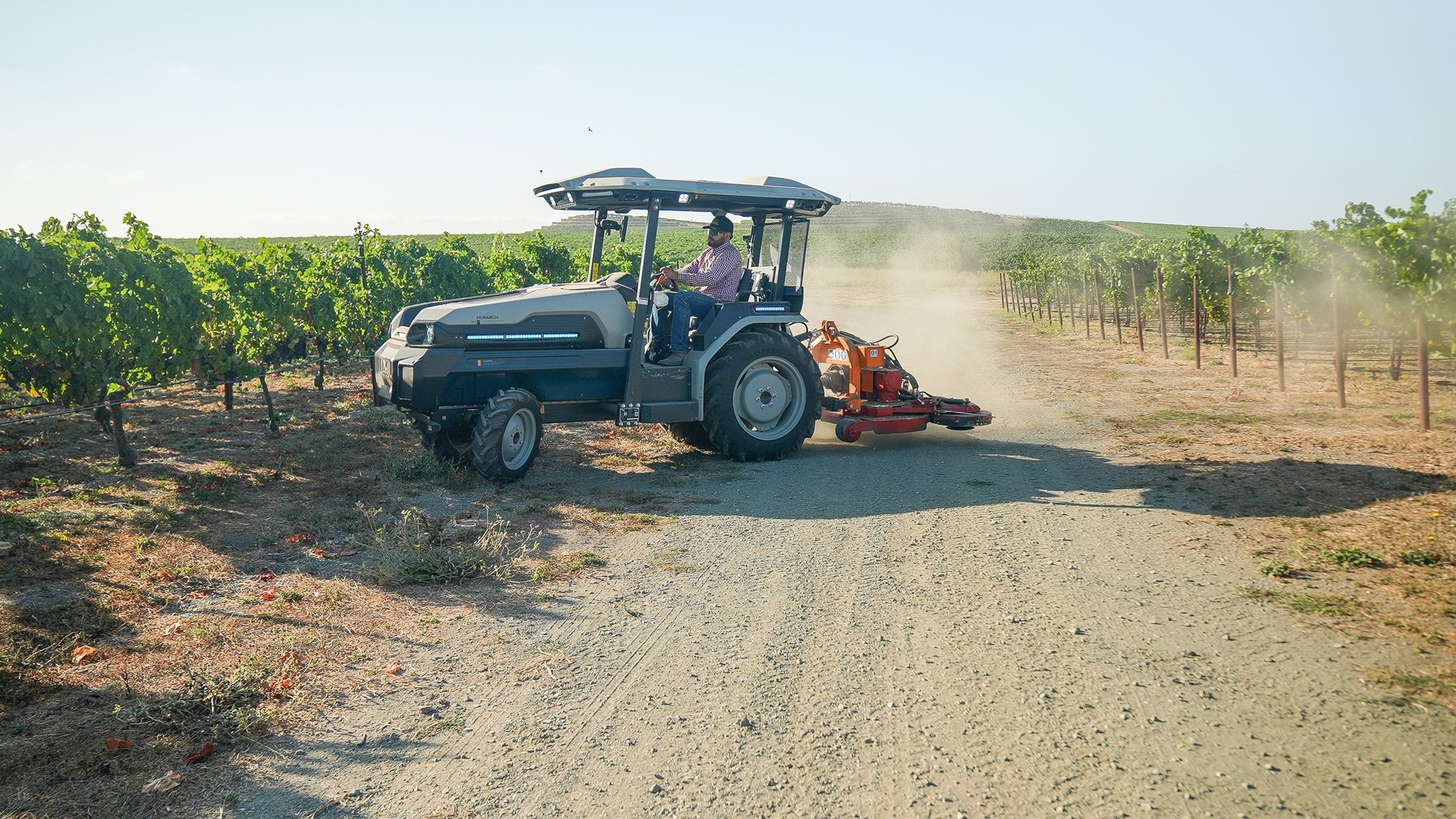 Getting accustomed to the MK-V did entail a small learning curve. Acclimating to a clutch, brake, and accelerator as opposed to a diesel's two-pedal system took a little practice but became second nature within a couple of days. Using a smart screen was also different.

Accumulating Gains
After a positive and helpful training session, Beckstoffer tasked the MK-V tractors with a backlog of mowing operations with plans to use them for seeding and spreading manure. Advantages immediately started showing up across farm operations with an underlying theme of time, money, and safety. Some notable standouts include:

1. Wingspan Ag Intelligence (WingspanAI)
Berken accesses data reports to see savings in diesel along with total reduced emissions. He's also able to see where the operators are out in the field.

Using WingspanAI has been awesome! If I have a question, I don't need to go hunting around the entire vineyard to find an operator. I just log onto WingspanAI on my phone, see where they are on the block and just wait for them at the end of the row rather than guessing all the time. It's a real time saver. It's also really cool that I can pull up the cameras on my desktop or phone and see what the operators are seeing. It's another way to see what's going on out in the field."
Conner Berken, Assistant Vineyard Manager for Beckstoffer Vineyards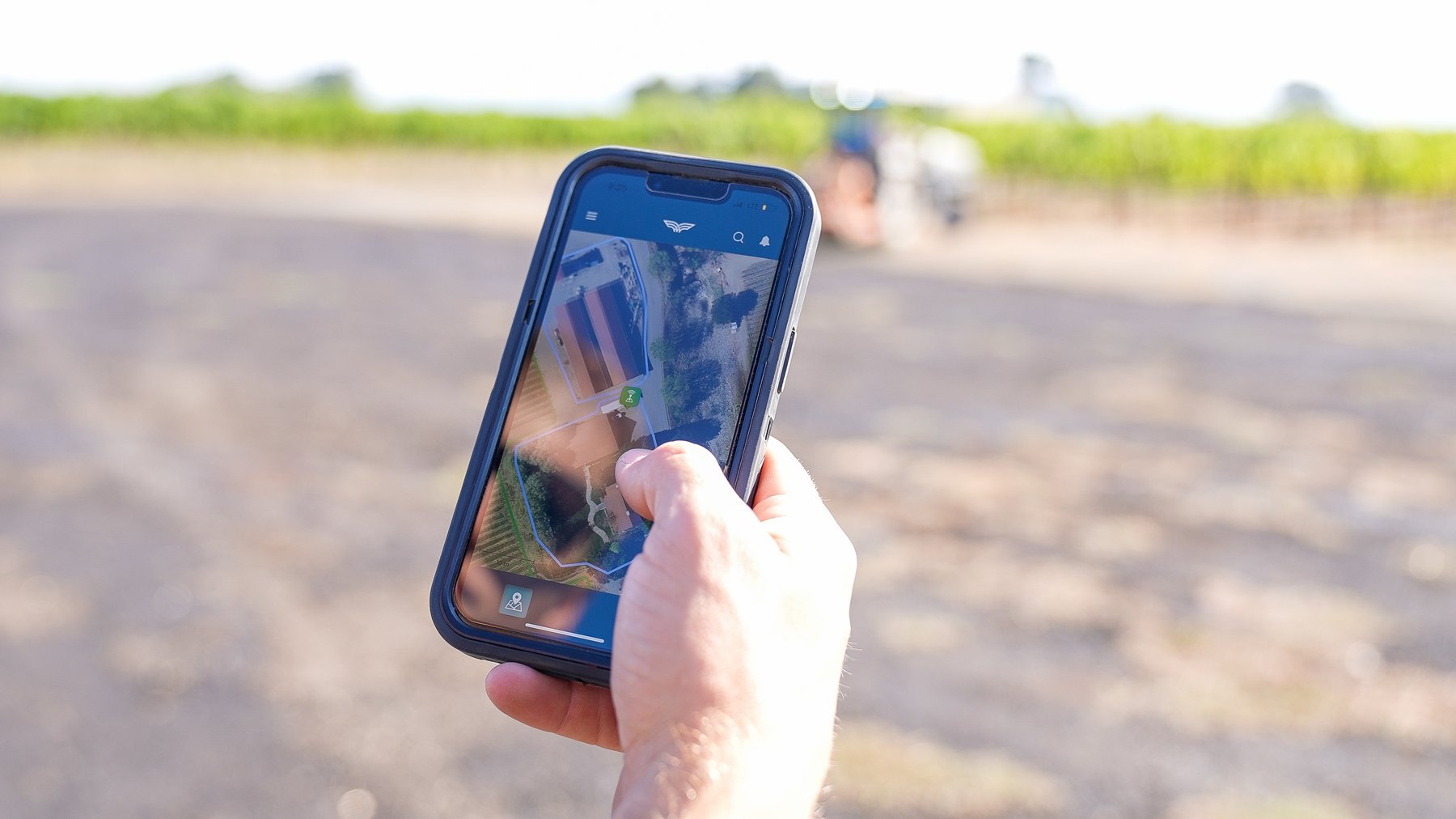 2. Customer Support
With all machinery, it's not a question of if a problem arises, but when. Instead of the request for help being a source of stress, Berken has found tremendous support and quick responsiveness from the Monarch Tractor team. And because a fleet ticket can be issued directly from the driver's seat, Berken and his tractor operators praise the time and hassle it saves them.
3. Ease of Use
Tractor operators are also enjoying the simplicity and time-saving technology provided with the MK-V. Without the need to carry diesel fuel, they can just grease the tractor up in the morning and go to the field without any concerns. Andrade calls the tractor's work lights, "a fantastic idea," especially for tasks like harvesting and nighttime work. The cameras aid in everything from navigating the tractor to hooking up implements to working more efficiently without stressing about hitting obstacles. Monarch's MK-V sensor technology is also proving to be a time-saving asset.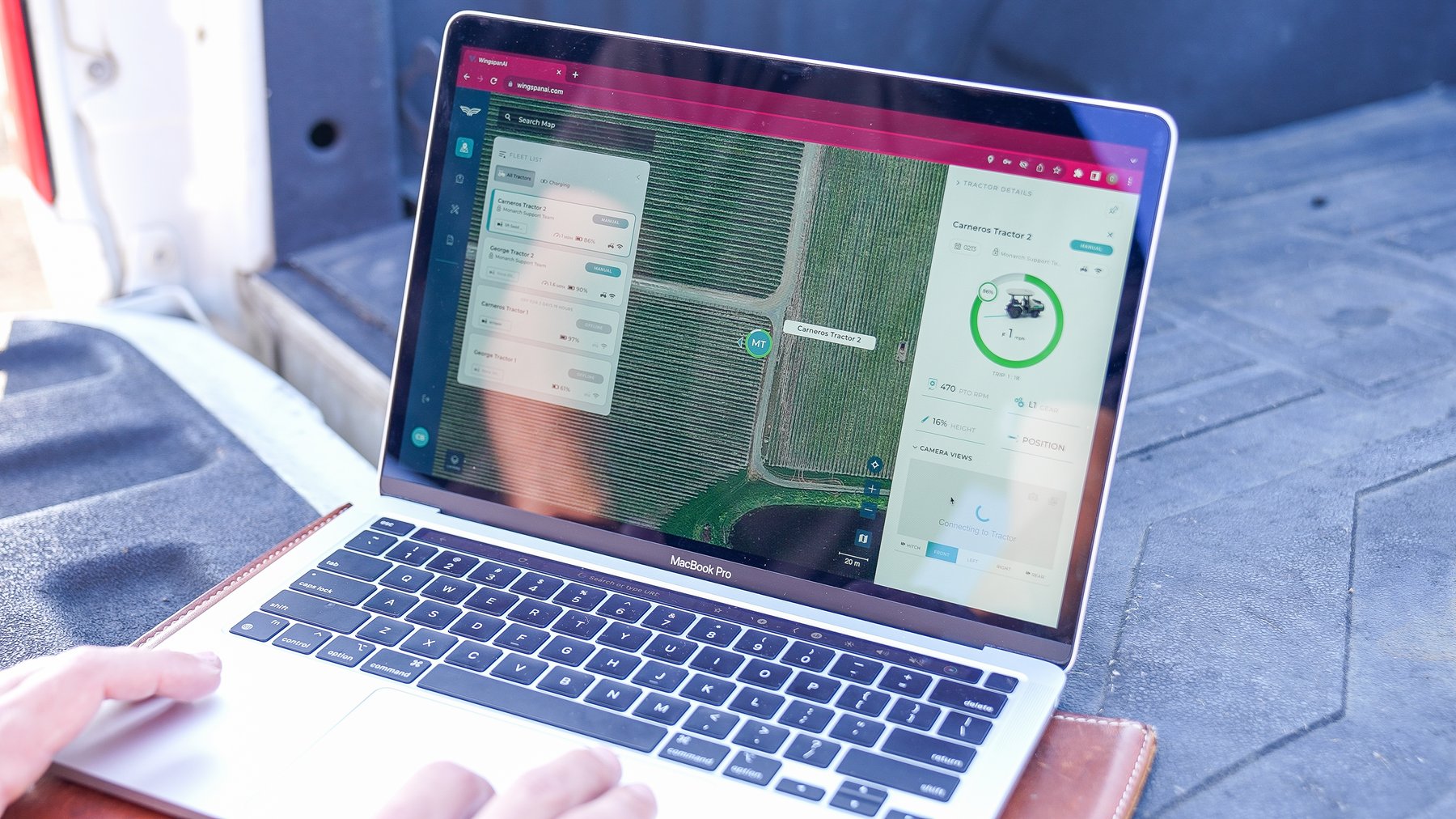 I find the Monarch to be very user-friendly because it has fewer levers and it's more computerized. You can adjust the implements as you wish and can check everything step-by-step without the stress of doing so with other tractors. When it comes to troubleshooting, we can identify and address minor issues ourselves without the need for a mechanic. The computer system shows you where the problem is. I don't have to wrack my brain to identify a problem.
Ángel Andrade, Tractor Operator with Beckstoffer Vineyards
4. Safety
Andrade and Guadalupe Riva Hertado report feeling safer in the MK-V. They cite reasons ranging from the ability to monitor everything more effectively to getting an alert if the seatbelt isn't securely fastened. "The MK-V doesn't allow minor things to go unnoticed . . . things that can potentially be serious in the end," Andrade observes.
5. Portable Power
Berken likes having a 110 volt outlet right on the tractor and has used it to plug in any electric equipment and tools he needed that would fit. The practicality surprised him. He exclaims, "You use it in places you didn't think you could use it!"
It's Harvest Time
With harvest season in full swing, Beckstoffer's Monarch MK-V tractors are pulling bin trailers and powering lights, an especially important task given that grape harvests usually take place between midnight and 4 a.m. Berken hopes the electric tractor is helping the team with less noise and chaos by reducing generator sounds. It turns out that Monarch's portable power may be fueling a lot more than lights. Berken plans to hook up a coffee machine for his crew at the weigh station using the MK-V!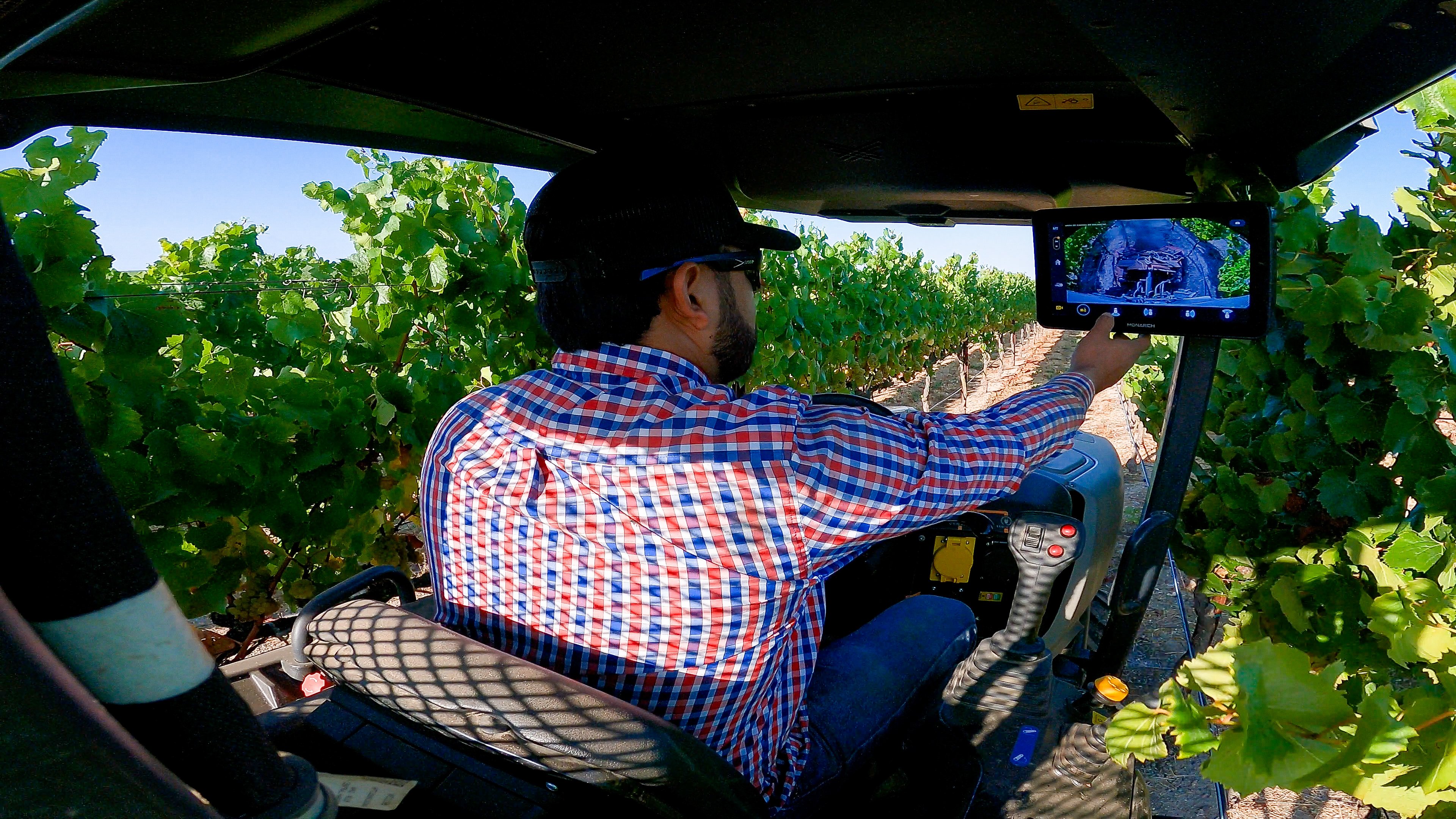 A Valued Farmhand
While the MK-V is already delivering positive results for Beckstoffer Vineyards, the staff continues to expand their knowledge of the MK-V and its ability to help them stay ahead of their work. And are they pleased with their investment?
"Everyone is curious on how the MK-V works," Berken says. "It's really exciting to tell them that we get to use it and that it's working for us."