Seeing is believing and we're bringing farm visibility to a whole new level. Armed with 10 cameras, the MK-V brings visibility and insights to everyone on the farm. With 360-degree camera vision, operators have maximum visibility for situational awareness whether in the driver's seat or monitoring the MK-V from a remote location. It's like being in two places at once!
*To interact with 360° vision while the tractor is moving, watch it on YouTube.
Protecting Farm Workers
Safety is paramount. Autodrive or manual, our electric tractor's visibility gives it the power to detect obstacles and minimize potential risks in the moment and respond accordingly to help prevent farm-related injuries. It's a valuable safeguard against dangerous farm hazards such as PTO entanglements and collisions with a person, livestock, crops, and infrastructure
The cameras and autonomy also improve safety by reducing the need for tractor drivers to multi-task while operating an implement. Operators appreciate these farmer-first details.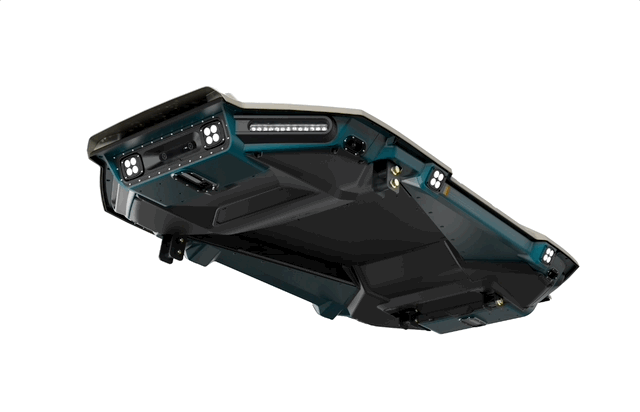 It (the MK-V electric tractor) has sensors and cameras. We no longer need to look back! It has everything on the screen. And the Autodrive is simple, practical, and easy to operate.
– Jesus Bravo, a tractor operator with Bobby Vineyards
Visibility & Insight
When a person sees something, the image soon becomes a memory. Not so with the MK-V electric tractor. Enabled by Wingspan Ag Intelligence (AI), farmers have access to historical video and photo feeds from the camera. The MK-V tractor operator can tag the precise location. This tag becomes valuable farm intelligence that can help a farmer detect and accurately locate issues like diseased plants, faulty irrigation, or increased pest activity.
Autonomy Adds Up
Advanced camera technology does more than give you driver-seat vision. The MK-V tractor's autonomy stack is based on vision. While helping labor accomplish more with fewer resources can make a big impact on efficiency, the value of autonomy and Autodrive is also found in the many small features that help a farmer save effort and hours every day. Whether the MK-V is automatically helping an operator stay centered in a row during operations or following you around like a loyal dog, the MK-V vision stack gives you more ROI than is apparent at first sight.