As a leader in AgTech, Monarch Tractor's innovations are helping farmers. But have you ever wondered exactly how Monarch's MK-V works as an electric tractor that is also smart and driver-optional? Now's your chance. Amazon Web Service (AWS) produces "All Things Automotive," a popular, online series on how AWS transforms connected mobility for its customers. In a recent episode, host Stefano Marzani, interviewed Chris Whitney, Chief Digital Officer at Monarch Tractor. It's a not-to-miss tech tour that takes you from the tractor seat to the cloud!

The partnership between Monarch Tractor and AWS is a perfect fit. AWS is empowering the digital transformation across the automotive industry. Monarch Tractor is using electrification, automation, and connectivity to rewrite the farming narrative. Monarch uses AWS services ranging from storage to data downloads to communications. Wingspan Ag Intelligence (WingspanAI) is Monarch's cloud-based hub on AWS that farmers rely on for insights gained from in-field operations.
"AWS provides us with a very secure data transport mechanism through our base station to the tractor to the cloud," Whitney says.

Marzani, Worldwide Tech Leader SDV, AWS, focuses on building secure autonomous vehicles and mobility fleet solutions, which are some of the auto sector's biggest challenges. He is impressed with Monarch's application of high-tech auto technology in an electric tractor.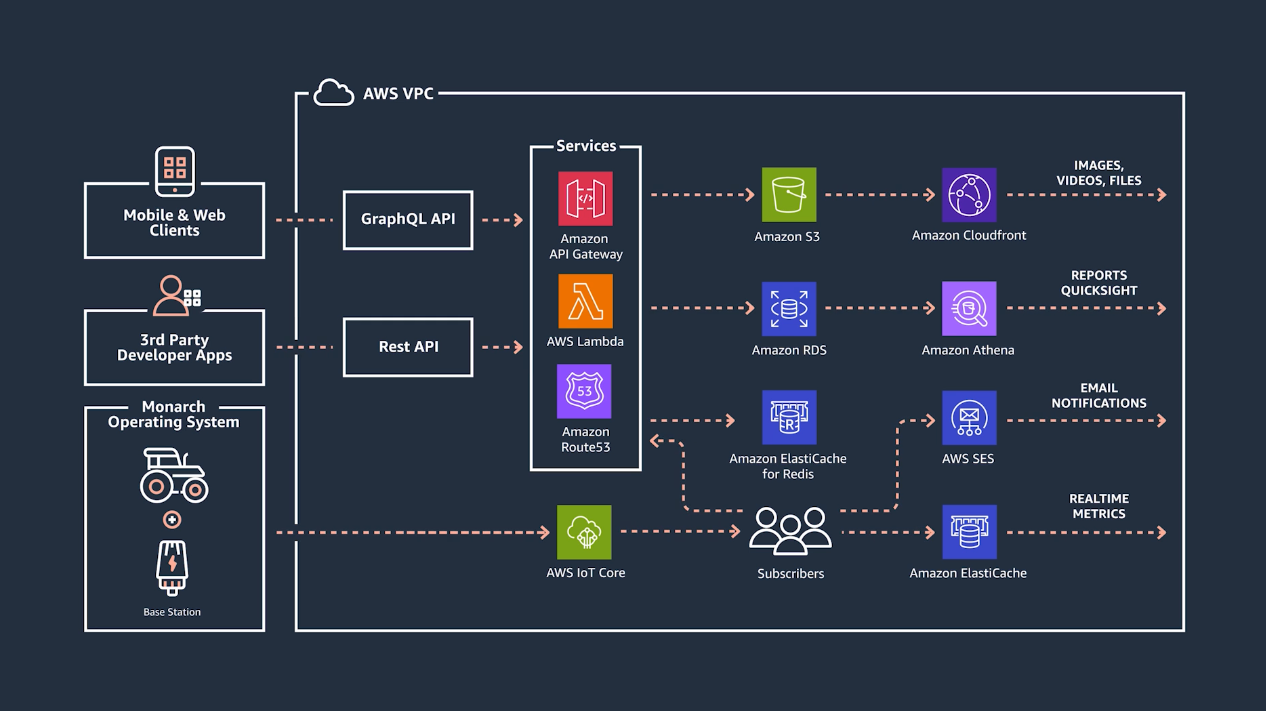 It seems to me that you have a really great recipe for innovation for the agriculture sector; big data, connectivity and IoT, and AI (artificial intelligence). It's what we call the 'big loop' with passenger vehicles. Monarch is building the big loop for the agricultural sector.
Stefano Marzani, Worldwide Tech Leader SDV, AWS, Host of "All Things Automotive"
Monarch is planting seeds of innovation as we work to give farmers a future in agriculture. And that future is made possible, in part, by AWS's formidable technical expertise and cloud computing services.


Monarch Tractor Media Contact Sling & Stone l monarchtractor@slingstone.com